29 August, 2015
Ski Safari 2 is the #1 Paid Game in the Australian App Store - Players get Free Scarves!
While we love indie gaming on a global scale, being based in Australia also means we're pretty happy to celebrate a local hero when it's warranted. The land of Oz has been on a roll of late, with talented indies cranking out titles such as Framed, Screencheat, One More Dash and Crossy Road - a list which barely scratches the surface of the Australian avalanche. 
Speaking of avalanches, just this week saw the release of Sleepy Z Studios' sequel to its 2012 hit - Ski Safari 2. Players in both Australia and France have been quick to jump on this little mobile gem, propelling the game's hero Sven (and now joined by his sister Evana) to the number one paid game in those App Stores. Did someone say paid games on iOS couldn't succeed? 
Also Read: Our Look at the Top Ten iPad Auto-Runners in Grab It Episode 3
How did Sleepy Z Studios celebrate? Just this afternoon while practically free-falling down Penguin Peaks I was pleasantly surprised to find I'd been gifted a free green and gold scarf by the developers. Green and gold by the way signifies all things Australian for those of you reading from abroad. You're right, you won't find those colours on the flag, it's a little confusing, I know. Just run with it, we do.
Thanks Sleepy Z, I'm wearing mine with pride.
Also Read: Our Huge Making of Screencheat in Grab It Episode 8
We'll have a full review up on Grab It as soon as humanly possible, we have a team of trained professionals skiing around the clock as I post these words to screen. The inside word though is that it's a lot of fun. Ski Safari 2 has more of everything, including an awesome new photo mode, and even multiplayer over WiFi and BlueTooth. Yes, multiplayer! 
Oh and did I mention the new photo mode? Here's a happy snap I took today of Sven riding a snowmobile down a wire carrying a yeti and a penguin, while being photo-bombed by an eagle. Weird.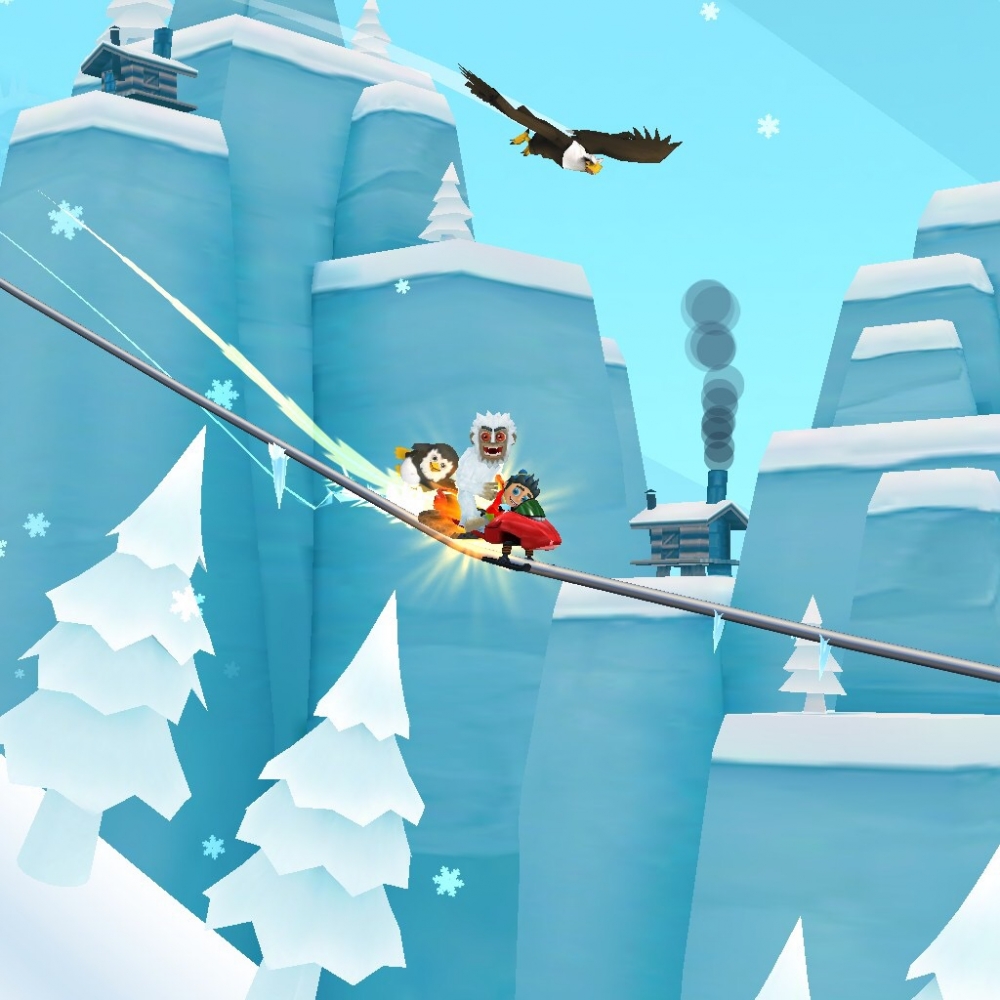 Stay tuned for the review, check out the trailer below, and Grab the game right here. Stay frosty. 
Writer:
Garry Balogh
Also Read: 
One More Dash Review
Hideo Kojima Reveals He is a Big Fan of Loveshack's FRAMED
Review of Hipster Whale's (Crossy Road developer) and Sprocket 3's PAC-MAN 256
New comment
comments powered by

Disqus